The 24 year old Greek singer/ songwriter Amanda Tenfjord will represent Greece in Turin! However she won't represent the country she was born in, as she was originally born in a little town in Norway called Tenfjord, but is half Greek. She usually sings her songs in English. The Norwegian-Greek singer has released a few singles and an EP earlier this year, together with her best song "Then I Fell In Love".
ERT choose her internally after six juries made the desicion to choose Amanda, and dropped these other four finalists.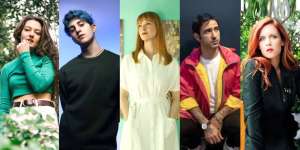 (Photo credits: ERT)
Her musical journey began way back when she was only 16. At that age Amanda learned how to play piano, took singing lessons and started writing her own songs. And this is of course not the end of her career, as we will follow her all the way to Turin!
(Photo credits: Jonathan Visaas Kise)